Author: Sergio Silveira
Genre: Mystery, Y.A
Age Group: Everyone
Title: The secret of Ravelston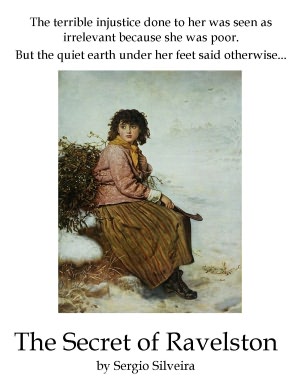 Jane's life has turned upside down, just because of the pride of an uncouth woman lacking in stature she has been sent away from her home and from her only brother. He has been the only family she's ever known and now she must pick up her life and move to Ravelston to live with an uncle she doesn't even know.
As the story progresses, Ravelston and it's inhabitance turn out to be more than meets the eye and Jane will find herself in places she never thought she would be.
My Thoughts:

First of all, I'd like to make it clear to readers that I generally don't read historical mysteries. I love historical Romance a whole lot, I love to hear about times past, but honestly in the setting of a mystery for me it's quite boring.
Silveira must be applauded however as the fantasy element to this book did keep me interested. Unfortunately though I was utterly disappointed by the hint of a Romantic relationship that turned out with no developement.
If I were to forget my personal preferences however it must be admitted that the book was well written and paced. There is no doubt in my mind that someone somewhere will enjoy this book.
That person however is not me. It took me a while to get into the story and so I can tell you with all honesty it wasn't my kind of book.
Recommendation
: If you are into romance, this book isn't for you. I suggest it for fans of
Agatha Christie and the like.
My rating: 3/5 it wasn't for me but someone else may like it!
Sergio Silveria is the author of this book. If you are interested in purchasing it, please visit Barns & Noble, or Amazon to purchase it to read an excerpt please visit The Student online paper to do so.